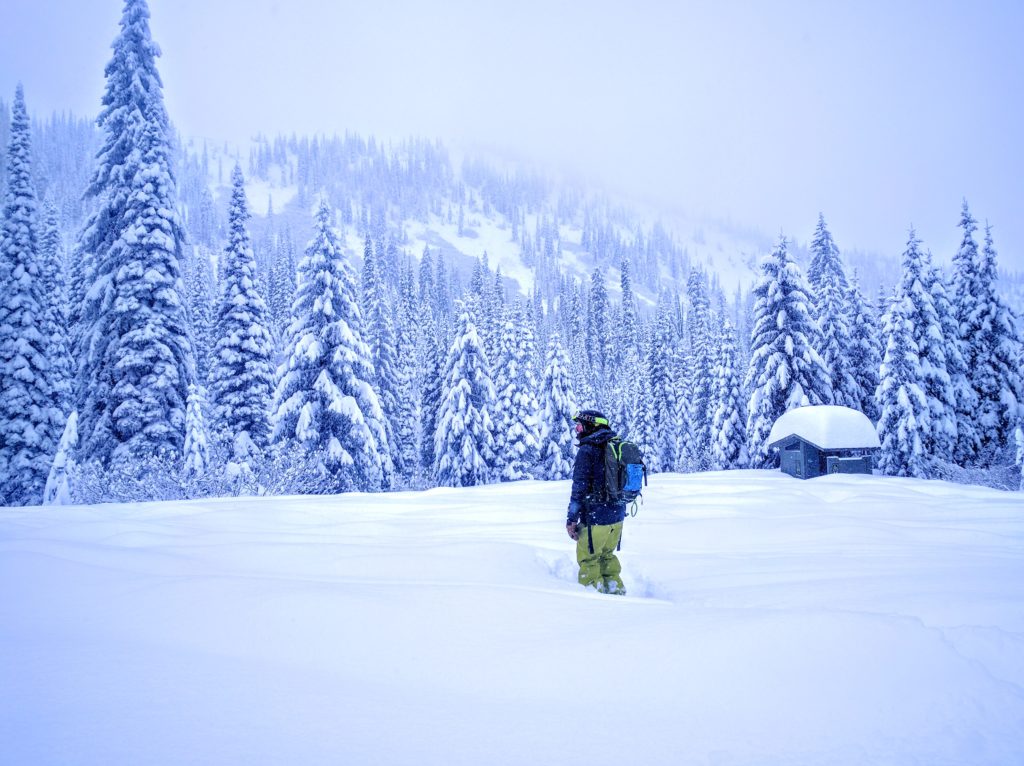 The Jewel Basin Yurt is located approximately 4.1 miles up the Jewel Basin Road and sits at 5,000 feet above sea level. The vertical gain from the valley to the yurt is 2,000 feet. The unique setting and placement of the yurt provides commanding views of Flathead Lake to the south and the Swan Mountain Range to the north. 1.7 miles further up the Jewel Basin Road from the yurt is Camp Misery Trailhead. The yurt location offers incredible convenience to the Jewel Basin and surrounding areas throughout all of the four distinct Montana seasons.
Distance to the Jewel Basin Yurt:
From Bigfork: 12.4 miles
From Kalispell: 25.3 miles
From Whitefish: 37.5 miles
From Glacier National Park: 41.7 miles
From Missoula: 111 miles
From Bozeman: 290 miles
Winter: During the winter months the Jewel Basin commonly stacks up snow to a settled snow depth at 6,000 feet in the triple digits. This offers a multitude of recreational opportunities throughout winter and a quick look at the snow depth chart below from the Noisy Basin SNOTEL site it is clear that come spring your snow bounty still awaits!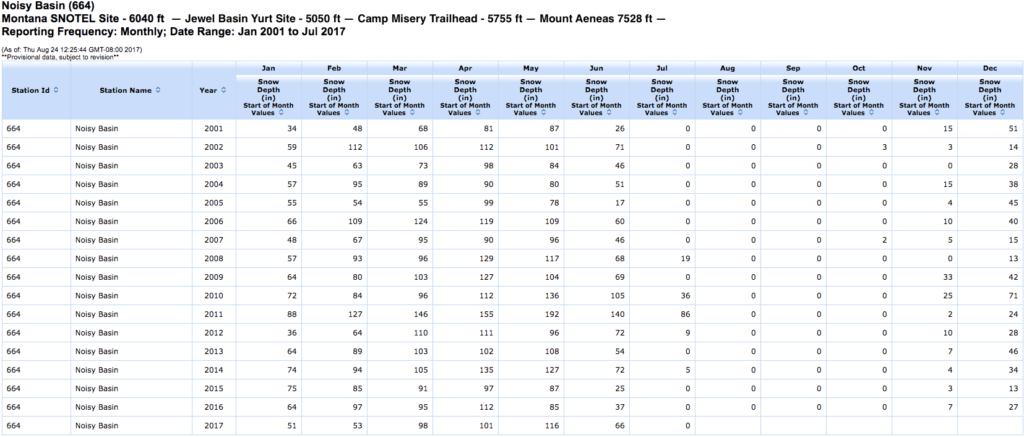 Summer: Certainly not to be outdone by winter- the spring, summer and fall in the Jewel reveals an incredible network of trails, lakes, wildlife, flora and fauna surrounded by views of Glacier National Park and the Bob Marshall Wilderness. The Jewel Basin Recreation Area boosts 15,349 acres of non-motorized heaven. Within' the Jewel is a network of 35 connected trail miles, 27 named lakes, five named peaks and 11 unnamed peaks ready to be explored.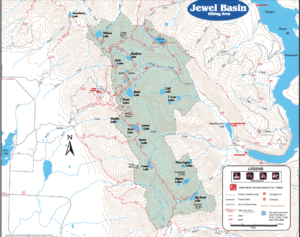 Yurt: Our Montana made Shelter Designs Yurt is 24′ in diameter and 452 square feet. It features warmth trapping Arctic insulation, wood stove, full kitchen and sleeping for up to 8 people. The 24′ yurt sits atop an elevated 28′ x 35′ deck that creates a welcoming and comfortable setting to enjoy a classic Montana sunrise or sunset with a hot cup of coffee or your favorite cold beer.
Most years you can drive to the yurt from the middle/end of May through the end of October/early November. Mother nature ultimately decides when the road becomes acceptable for safe vehicle travel. Other modes of transport to the yurt include: walking, hiking, biking, skinning, snowshoeing or snowmobiling.
We are off the grid: A wood stove heats the yurt. Toilet facilities consist of an outhouse with a pit toilet. There is no electricity or running water at the yurt. Guests should bring their own drinking water. Keep an eye out for future upgrades that include a solar powered battery pack, LED lights and more.
Book your stay at the Jewel Basin Yurt here: AVAILABILITY REQUEST